2023 FIESTA MIAMI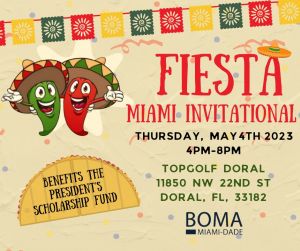 2023 LUNCHEON SPONSORSHIPS
All Luncheon Sponsorships recieve: 
- Banner Stand allowed at Registration Desk
- Promo or Marketing Items allowed at each table
- Raffle item allowed
- Each Sponsors gets the option of 10 mins at the podium or up to 5 min video presentation and 5 min mic time.
- Industry Exclusive Events are marked as such
2023 LUNCHEON SPONSORSHIPS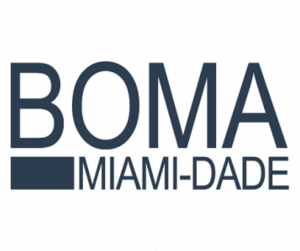 ANNUAL MAYOR'S BREAKFAST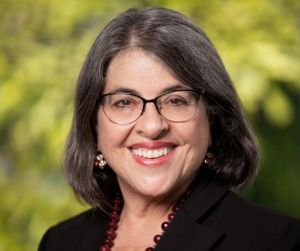 EMAIL ALERT ADVERTISING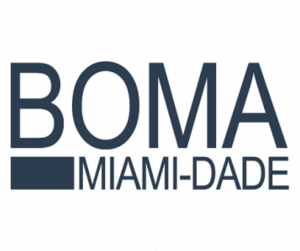 BOMA Miami Dade sends Emails Blasts with industry news, class notices, calls to action, and event information twice a month.  You can feature your business in our Email alerts as a Featured Member or an Article Submission.
TOBY AWARDS 2023 SPONSORSHIP PACKAGES
The Outstanding Building of the Year (TOBY®) Awards is the most prestigious and comprehensive program of its kind in the commercial real estate industry. The TOBY Awards Program recognizes properties that exemplify superior building quality and management practices. During the competition, all facets of a building's operations are thoroughly evaluated with the ultimate goal of rewarding excellence.
The 2023 TOBYs MIAMI NIGHTS is a night of celebration that will be held at the Colonnade Hotel to honor the Outstanding Buildings of the Year. Guests will enter enjoy a look back at 40 years of BOMA Miami through the growth in the business districts o the Miami Nights.
BOMA MIAMI Dade is committed to work hard and make every detail count to bring value to your BOMA Miami Sponsorship. Our aggressivevmarketing and promotional programvis designed to provide you optimum exposure based on your sponsorship level in front of a "sold Out crowd" of more than 250 people.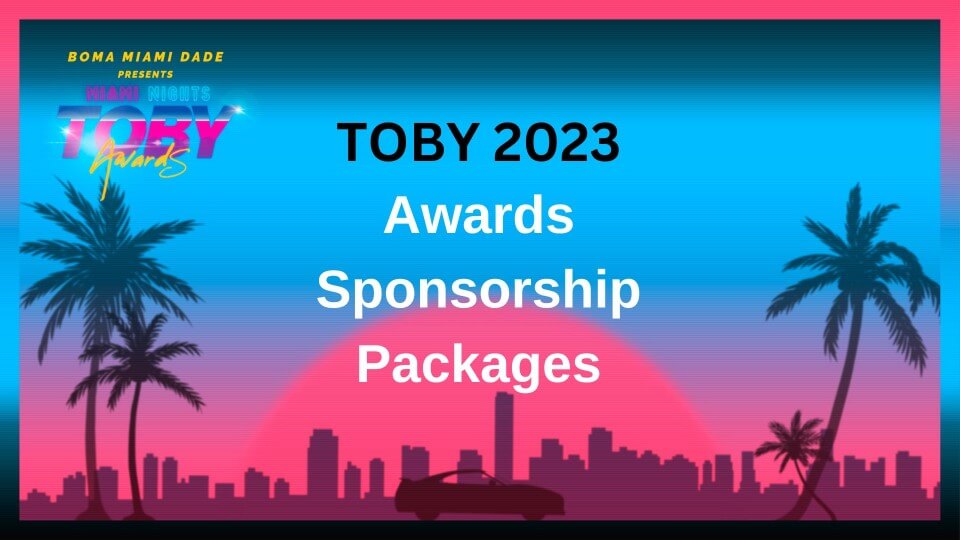 FIESTA MIAMI 2022!
Become A Sponsor for Fiesta Miami 2022!
HOLIDAY PARTY PHOTO SPONSOR
HOLIDAY PARTY SPONSORSHIP
MEMBERS ONLY SOCIAL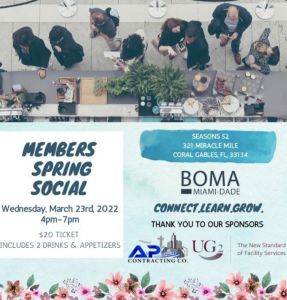 Members only Social at Seasons 52
SPA DAY 2022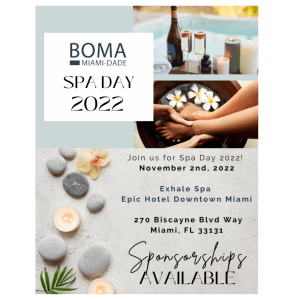 SPA DAY 2022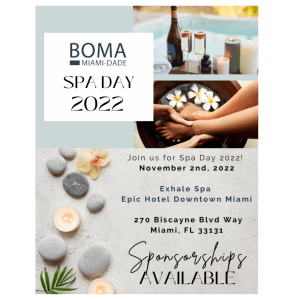 BOMA FAMILY DAY 2022!
About BOMA FAMILY DAY! Thank you for your interest in sponsoring BOMA Family Day! This event was created in 2021 to bring together our members in a fun and relaxed way that we can enjoy with together with our loved ones. Last year's event was a huge success and we look forward to making more memories with our BOMA Miami-Dade family this year!
Join us for BOMA Family Day 2022! Marlins v Braves Sunday, August 14, 2022 at 12:30PM. Benefitting: The United Way of Miami-Dade! Back-to-School Supplies Drive! Reach out to your Co-Chairs for any questions! Co-Chair Elle Dominguez, Colliers elinne.dominguez@colliers.com Co-Chair Ryan Brewer, Flotech Environmental ryan.brewer@flotechllc.co BOMA Family Day Includes: REFRESHMENTS Catered meal and two drink tickets for all ticket holders FAMILY FUN Face Painting, Caricature's, Character Meet and Greets, Photos, Marlins swag, Prizes, and On-field experience after game EXCLUSIVE EVENT AREA Special BOMA Family Day area with private access from street level COMMUNITY Contributions to United Way Back- to-School Drive help shape the lives of children in need in Miami-Dade.